Yoga is for every body. Regardless of your age, gender, fitness level or yoga experience, Raleigh Yoga Center offers a caring space and an appropriate class for you, under the guidance of our highly trained and compassionate teachers. Our focus is on correct body alignment and the detailed composition of poses to assure your safety and maximize the benefits of each pose. Our training is strongly influenced by B.K.S. Iyengar, one of the foremost teachers in the world and author of the classic text "Light on Yoga." His style is unsurpassed in grace, subtlety and precision. We welcome you to study with us. Find our current schedule here.
Upcoming special events
SAVE THE DATE ~ IYENGAR YOGA WEEKEND
WITH BOBBI GOLDIN
Feb 28th-Mar 2nd 2014
Bobbi Goldin is returning to Raleigh for her 11th annual Iyengar Yoga workshop Friday February 28 – Sunday March 2. Certified by B.K.S, Iyengar in 1983 and Director of the Yoga Institute of Miami for the past 34 years, Bobbi is a highly respected teacher with vast experience and great wisdom.  She conducts workshops nationally and internationally and is known for her ability to individualize in her classes so that everyone's needs are met and each student feels personally touched.  Don't miss this opportunity to study with her, be inspired by her and share her love of yoga and life. See EVENTS page for more details and registration flyer.
RESTORATIVE YOGA
Sundays  Mar 9th & Mar 16th
Restorative Yoga is a gentle, relaxing practice that utilizes many props to support the body in poses held for extended periods of time.  This support allows the body to let go of deeply held muscular tension and stress while returning the autonomic nervous system to balance. Restorative practice creates feelings of deep rest and renewal, as your mind remains alert.   While not a treatment, Restorative yoga can improves symptoms of anxiety and depression.  Join Jessica Kasinoff as she shares her training and experience teaching Restorative Yoga.  Sundays 3/9 & 3/16 3:30-5:00 pm. Special pricing: $5.  Visit EVENTS for more information and registration.
COMMUNITY CLASSES ~ FREE
March 8th – THIS CLASS IS FULLY REGISTERED!
April 12th
In the spirit of community and gratitude, the Raleigh Yoga Center offers a free class on the second Saturday of each month from 11:00 am-12:30 pm. This is an all-levels class but is not recommended for those with health concerns. Instructors vary. Reservations are required. Please e-mail janebarrett@nc.rr.com to reserve your space.
SAVE THE DATE ~ YOGAFEST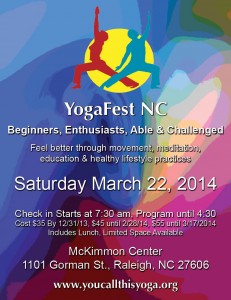 "Yoga is like music. The rhythm of the body, the melody of the mind and the harmony of the soul create the symphony of life." ~ B.K.S. Iyengar